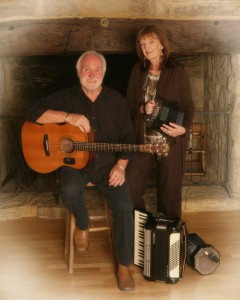 Martyn Wyndham-Read has been involved with folk music for over forty years. As a teenager in the 1960s he set off to work on a sheep station in Australia and became part of the folk song revival there, later returning to England with a wealth of traditional songs and stories.
Martyn is the instigator of the much acclaimed Folk Links Project, a celebration of English Traditional Songs and their Australian and North American variants and has worked with the cream of singers specialising in traditional songs from their own countries. He is accompanied by Iris Bishop, regarded by many as one of the finest players of the Duet concertina. Where Ravens Feed
In support will be Marianne Neary a young singer-songwriter who was one of the finalists in the 2010 New Roots competition. Check availability of tickets by email through the link on 'About the club' page. Bring your own refreshments.
Showcase guests at the singaround on Friday 28 May will be Faith and Taka Masendu. Free entry. Bring your own refreshments.