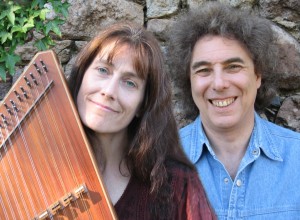 Tania Opland and Mike Freeman have been touring the world since 1995 with a unique and eclectic
mix of songs in several languages and acoustic music played on a variety of instruments, including hammered dulcimer, guitar, recorders, cittern, violin, Native American flute and percussion.
Their shows feature both traditional and contemporary material from many cultures as well as original compositions, all presented with wit and style – guaranteed to provide an evening of great music and entertainment for all, especially those seeking something just a little off the beaten track. Mike's irreverent sense of humor and Tania's stunning vocals provide the springboard for a rollercoaster ride across several continents and back again. Check availability of tickets by email through the link on 'About the club' page. Bring your own refreshments. For a clip of Tania on youtube: Dona Nobis Pacem
Sinagrounds every Friday, as usual, throughout the summer, with two spots from local band Showcase guests LongShore Drift on Friday 2 July. Free entry. Bring your own refreshments.