Pete Morton has been hailed as one of England's finest songwriters – a voice of reason in these troubled times. The songs on Pete's brand-new album, 'Economy', present a typically lively, moving and often sideways look at the modern human condition, whether through the eyes of a lady gorilla, the ever-changing setting of a city café or the sweet voice of an Indian call-centre operator. 'Disobedience' strikes a particularly topical note in summoning the peaceful spirit of Gandhi to fight oppression. Other well-loved songs from Pete include 'Another Train', 'The Shepherd's Song' and 'Six Billion Eccentrics'.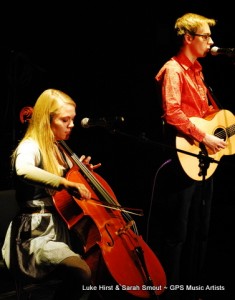 In support on Friday 18 March will be up-and-coming young songwriting duo Luke Hirst and Sarah Smout. Cellist Sarah has played all over the UK alongside Rosie Doonan and has shared stages with a number of well-known performers, including Kate Rusby. An accomplished guitarist, Luke has been playing gigs since 2004, with TV coverage on BBC and airplay on a number of radio shows.
Bring your own refreshments. Tea and coffee will be available. Tickets £8. (Save seats by emailing via the 'About the club' page.)
PS The toast of the Edinburgh fringe this year, Pete Morton's alter-ego, Geoffrey Chaucer Junior, will be presenting  'The Miller's Tale', a medieval musical monologue of poetry, comedy and song, at the Christ Church Centre at 8 pm on Saturday 19 March. Tickets £6/£4.