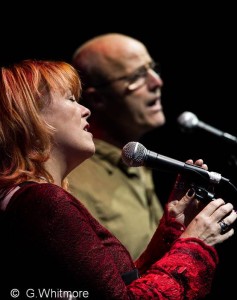 With six critically-acclaimed albums plus numerous tours and festival appearances to their names,
Winter Wilson
are increasingly well known across the UK acoustic music scene for their fine original songs, stunning harmonies and off-the-wall humour. Their latest album, Cutting Free, was recently selected by the
Daily Telegraph
as one of '10 fine folk albums for Summer 2014′.
Described by John Tams as a 'magnificent' songwriter, Dave Wilson is now recognised as one of the best on the English acoustic scene. In addition to covers by some of folk's 'greats', his songs are now regularly sung in folk clubs across the country by everyone from floor singers and groups to choirs.
Kip Winter's voice is simply one of the best in the business, delivering power and emotion in equal measure (described by one promoter as 'from melting to belting'). In the past she has sung everything from jazz to opera, but is at her best and happiest when singing folk and blues.
Tickets £10 (£7 members) can be reserved by emailing via the link on our contact page or via facebook. Bring your own drinks – fine ales also available very nearby and teas and coffee in the kitchen.