Everyone is welcome at our Christmas song session on Friday 18 December, whether to sing, play or listen. There may be seasonal songs and tunes – and other party pieces. Bring a bottle or two and perhaps some food to share. Extra prizes for the raffle would also be appreciated. There will be a prize for the best Christmas jumper – and maybe for the worst too!
We shall not be meeting on Christmas Day.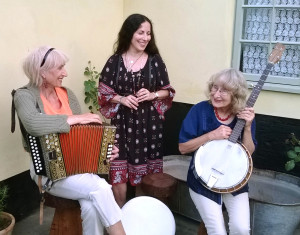 On Old Year's Night, Thursday 31 December, there will be a special session to greet the New Year with lots of songs, as well as some dances led by the Fezziwig Ceilidh Band. All welcome. Tickets only £5 on the door. Bring instruments, voices, bottles, some food to share – and maybe donations of unwanted presents for the grand raffle!
The first song session of 2016 will be on Friday 8 January.