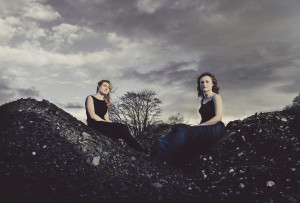 On Friday 18 March the club is very pleased to welcome back Emily and Hazel Askew – winners of Best Traditional Album in the Spiral Earth Awards 2015. The sisters play rhythmic foot-stomping tunes on fiddle and melodeon, and deliver powerful interpretations of songs and ballads, revealing an infectious enjoyment and love of English folk music.
'The breezy robustness of their musicianship is demonstrated in the joyous way the two parts switch around, colluding and colliding during the course of a tune set, adeptly maintaining listener interest while keeping feet tapping … infectious pumping energy characterises their performance', fRoots magazine.
Tickets £10 (£7 club members) can be reserved by emailing via our contact page. Bring your own drinks. Coffee and tea available in the kitchen. Please note the start time will be 8 pm and end time 11 pm, as with all future club events and regular song sessions.