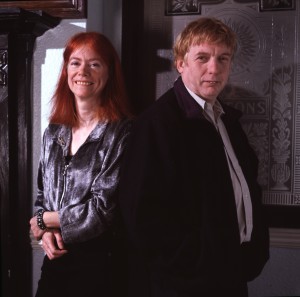 On Friday 6 May we welcome the very accomplished unaccompanied singers, Peta Webb and Ken Hall. Peta's & Ken's singing is rooted in the oral tradition, their style absorbed over the years by listening to and singing alongside traditional singers in England and Ireland. In 2015 they celebrated twenty-five years at their Musical Traditions Club, London, providing a platform for unaccompanied traditional singers.
Long admired as solo singers, their coming together to explore duet singing sparked off a new creativity. They have a rich, distinctive sound, based on Irish and British traditions of unison singing and the harmonising of  American brother duets. The diversity of their material, from England, Ireland and America, celebrates the essential links between these cultures.
Reserve tickets £10 (£7 club members) by emailing via our contact page. Bring your own drinks. Teas and coffee available in the kitchen. Also do let us know if you would like to do a floor spot.