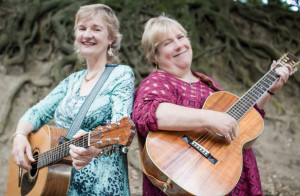 On Friday 16 January we welcome Anne Lister and Mary McLaughlin, who first performed together as Anonyma in the 1980s, after meeting at Broadstairs Folk Week. They toured extensively in the UK, the US and Ireland, and released the album 'Burnt Feathers' to critical acclaim, building a solid reputation for their original arrangements of a wide range of material, from Anne's compositions to traditional British and Irish songs as well as the occasional song by Sting or Elvis Costello.
After five years they both had other projects and opportunities to follow, and Mary's career took her to California. She has now returned to live and work in Limerick, and Anne and Mary are setting out on a comeback tour.
Tickets are available on the door, £10 (£7 members) and can be reserved via the form on our contact page. Bring your own drinks – teas and coffee available in the kitchen.