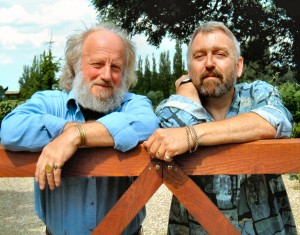 Bill Whaley and Dave Fletcher have been singing together for over forty years, much of the time in their native Lincolnshire. They have appeared at clubs and festivals from Edinburgh to Bodmin and are in danger of becoming an overnight success. Their voices, described by Harvey Andrews as two of the best in folk music, blend perfectly and the pleasure they get from singing and sharing with an audience is obvious.
Bill and Dave's selection of songs encompasses both ancient and modern, accompanied in traditional style mainly by Bill's English, duet and anglo concertinas. They have also been involved with Martyn Wyndham-Read's Songlinks project, appearing in the concerts and on both of the albums. Youtube clips include: The Call and the Answer
Tickets £10 (£7 members) can be reserved via the form on the contacts page. If you do contact us, please assume that your name will be put on the list. Bring your own drinks – teas and coffee available in the kitchen.