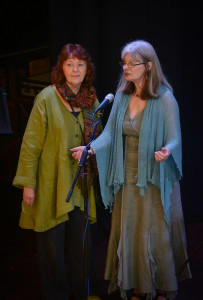 On Friday 2 October we welcome two of Britain's foremost acapella singers, Carolyn Robson and Moira Craig, who hail from Northumberland and Scotland respectively and whose repertoire reflects their Northern roots. Both performed for some years as part of the renowned harmony trio, Craig: Morgan: Robson, appearing at all the major festivals as performers and inspirational workshop leaders.
Carolyn Robson is a traditional folk song and dance specialist who has three solo albums and was featured on Kathryn Tickell's CD 'The Northumberland Collection'. Moira Craig is from a family of singers and musicians based in East Kilbride near Glasgow and is known for her superb interpretations of Scottish, Irish and English songs and ballads. She has a solo album, as well as three albums with Craig: Morgan: Robson and can also be heard on the 'Pastimes' albums.
Tickets for the concert on Friday 2 October can be reserved via the form on our contact page, £10 (£7 members). Bring a bottle or enjoy a choice of teas or coffee from the kitchen.
Carolyn Robson and Moira Craig will be hosting a harmony singing workshop from 1.30 to 4.30 pm on Saturday 3 October at Hayman's Lodge in Catton Park, Oak Lane NR6 7DB, just off the ringroad in Norwich. Open to all abilities – a great opportunity to try singing for the first time in a supportive atmosphere – and it's only £5. (Book spaces via our contact form.) Bring cold drinks. There will be tea and coffee available.