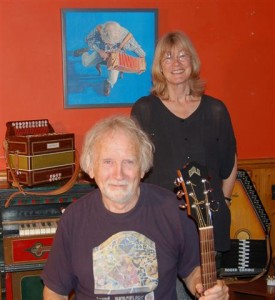 Roger and Chris Gamble will be the showcase guests at Norwich Folk Club singaround on Friday 30 April.
Singer and multi-instrumentalist Roger has been a stalwart of folk and acoustic sessions in Norfolk and Suffolk for over 45 years, drawing on a wide range of material, from English traditional to influences  as diverse as Randy Newman and Mark Knopfler. The trademark harmony singing of Chris and Roger has long been a feature of their local gigs.
Since moving to South-West Norfolk  their appearances in Norwich in recent years have sadly been limited, but their return promises to be a treat, with much of Roger's 'back-catalogue' expected, together with some recent additions.
Bring your own refreshments. Tea and coffee available.