On Friday 9 December we welcome our favourite supergroup the Zimmers as showcase guests at our song session.  We are fortunate enough to see Peter Coleman and John Mathews at the club most Fridays, and this week they will be joined by fellow long-time performers Mauny Wood, Colin Tait and Roger Gamble. A rare treat indeed! Other singers and musicians will also be welcome to join this song session, so please remember to bring instruments and songs. Free entry, with a raffle.
On Friday 16 December the song session will be in the cosy upstairs lounge. All listeners and performers very welcome. Bring your own drinks.
Our Christmas gathering will be on Friday 23 December, with seasonal and unseasonal songs and tunes, and a grand raffle (extra prizes much appreciated). Bring songs and tunes, bottles and, if you wish, some food to share. Teas and coffee will be available as usual. Christmas jumpers are optional!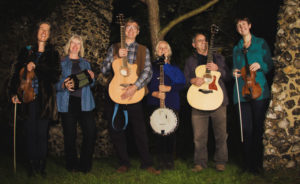 No session on Friday 30 December, as we're meeting on Saturday 31 December from 8 pm till somewhat after midnight to celebrate Old Year's NIght. As usual, there will be a mix of songs and tunes from the assembled multitude, with a couple of sets of ceilidh dances led by Stookey Blue. Don't forget to bring instruments, songs and your own drinks, plus, perhaps, some food to share or a prize for the grand raffle. If you would like to reserve tickets: £3 (£5 non-members), please email us via the form on our contact page.