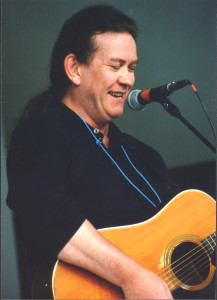 Dick Gaughan has been at the cutting edge of Scottish music for almost five decades! Guitarist, singer, songwriter, actor, musical director, composer, arranger, producer, engineer, he's been there, done it. He is a stunning singer with a wonderfully expressive voice belying passion, allied to a dazzling guitar technique.
Well known for his forthright and long-time consistently held, oft-expressed political views Dick has never been attracted by a vogue of consensual, namby-pamby, pragmatic and equivocating politics. Dick gives voice to an uncompromising solidarity with the flotsam and jetsam of tunnel-vision global capitalism: the victims, the helpless, the wronged, the fighters, the brawny working-class bravehearts who made capitalism work (after a fashion).
In December 2009 Dick was honoured by being inducted into the Scots Trad Music Hall of Fame. Then, less than two months later in London, he received a Lifetime Achievement Award at BBC Radio 2's annual Folk Awards ceremony.
Bring your own drinks. Teas and coffee available in the kitchen.
TICKETS FOR THIS EVENT ARE SOLD OUT.