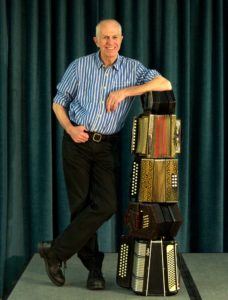 The special guest on Friday 3 February will be singer and squeezebox king John Kirkpatrick. John is one of the most prolific figures on the English folk scene, performing solo, in duos, acoustic groups and electric bands, and has established an enviable reputation as an instrumental virtuoso and session musician, as well as a leading interpreter of English folk music. He has been a member of the Albion Country Band, Magic Lantern, The Richard Thompson Band, Umps and Dumps, Steeleye Span, Brass Monkey, Trans-Europe Diatonique, and Band of Hope, as well as numerous ceilidh bands.
As songwriter, composer, choreographer and musical director, John has contributed to over sixty plays in the theatre and on radio. And as featured artiste, band member, or session player, his music can be heard on over 200 different commercial recordings.
Tickets £11 (£8 club members) can be reserved by emailing on our contact form. Bring your own drinks – teas and coffee available in the kitchen.