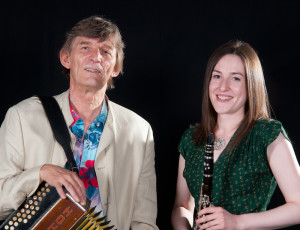 Pete Coe has been a professional musician since 1971. He has performed at festivals, concerts, folk clubs, dances and schools throughout Britain, Europe, Asia, New Zealand and the USA. Multi-instrumentalist Alice Jones first learned folk songs from her mother and was the singer with The John Dipper Band.
Together, Pete and Alice present 'The Search for Five Finger Frank', which features new arrangements of both classic and rare folk songs unearthed from the treasure trove that is the Frank Kidson collection. The show celebrates and commemorates the incredible legacy of a man widely regarded as 'a pioneer of the folk song revival'. Many of the songs now popular in the folk repertoire of today were initially collected and published by this founder member of the Folk Song Society and key figure in the folk movement of the early 1900s. Check out Sprig of Thyme and One Summer's Morning.
Tickets: £7 members (£10 non-members), can be reserved by email via the form on the 'Contact us' page. Bring a bottle or enjoy a tea of coffee from the kitchen.