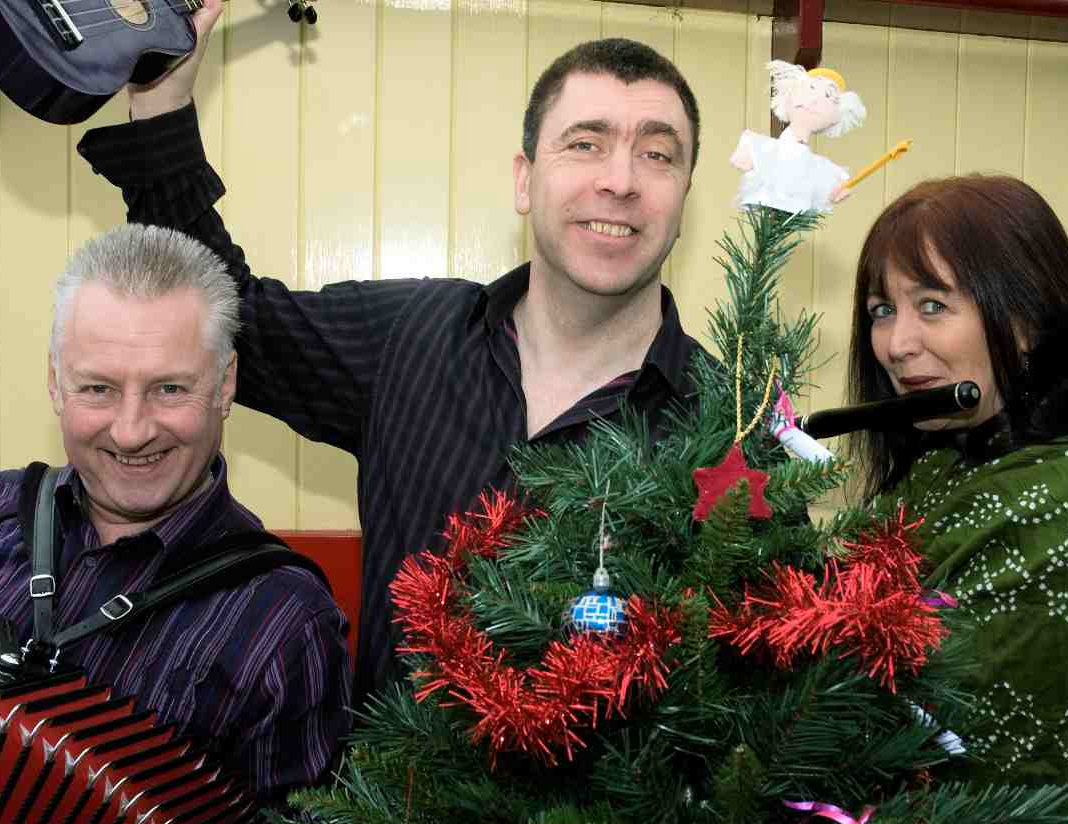 On Saturday 12 December, in association with Norwich Folk Club, Pete Morton,  Maggie Boyle and Chris Parkinson bring their Magical Christmas Tree Tour to the Christ Church Centre on Magdalen Road (opposite the Whalebone pub), with an enjoyable mix of seasonal offerings and special treats from this accomplished trio of performers.
Songwriter Pete Morton sings from the heart, with songs that are an unruly mix of humour, politics, love and social comment, wrapping their way around the folk tradition.  He may also be persuaded to sing his well known song 'Another Train'.  It's bound to be on the tree somewhere!
Maggie Boyle is a traditional singer and flute-player. Through her ballads and tunes, old and new, she continues the tradition of music and storytelling passed on by her Irish family. Maggie's voice and flute are an integral part of Christopher Bruce's folk ballet, 'Sergeant Early's Dream' created for Rambert Dance Company.  She has worked with James Horner, The Chieftains, Incantation, Bert Jansch, Steve Tilston, John Renbourn, Grace Notes and ,,,
Chris Parkinson, who has played music since the age of five, starting with the harmonica before moving on to everything else. However, he is best known for his melodeon and piano accordion playing, and is one of the most sought-after accordion players in the country. Among many others, Chris has worked with Martin Carthy and Norma Waterson, Ralph McTell, Billy Connolly, Mike Harding, Steve Tilston, Martin Simpson and Steve Phillips.
The Magical Christmas Tree is full of songs and tunes from everywhere and this is your chance to write the set list! A fun and spontaneous night for everyone – especially Maggie, Chris and Pete – who quite literally don't know what they are going to do next … but they do it well! Tickets £8 (£6 club members) can be reserved by email, using the form on 'About the club' page.
On Friday 11 December there will be a singaround at the White Horse Inn as usual. Everyone is very welcome to join us – whether to listen, sing or play.