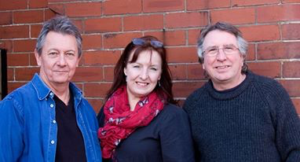 On Friday 7 July we welcome the much loved trio Risky Business, who have come together again for a special tour this summer. Ruth Fuga, Ken Powell and Dave Walmsley first formed the band over 20 years ago, after they had each had successful individual music careers. The group toured together for ten years and made four great albums.
Both Ken Powell and Dave Walmsley are skilled multi-instrumentalists and provide the harmonies supporting Ruth Fuga's clear lead vocals. The Risky Business repertoire is eclectic and includes many of Dave's own carefully crafted songs. Mendocino
In the intervening years, Dave Walmsley has carved a new career with the band Other Roads and tours throughout the year, both at home and abroad. Ken Powell has spent the last eight years developing his business as a luthier, creating new guitars, gasoukis and mandolas, and Ruth Fuga has continued to sing alongside Ken. Now married, Ruth and Ken live in Wales and put on the Llanwddyn Folk and Acoustic Festival every September.
Please let us know via the contact page if you would like us to put you on the list for tickets (£11, £8 members). Bring your own drinks. Teas and coffee in the kitchen.