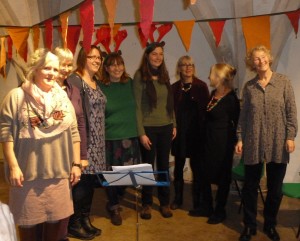 The showcase guests at the song session on Friday 5 February will be Norwich-based harmony group Akabella. The group was started by Susan Bell, has been running for a couple of years in its present form with eight members and has performed at many local venues. 
Akabella aim for variety and like to sing songs in three- or four-part harmony, with arrangements by Susan and others in the group. Their material is eclectic, drawn from the British folk tradition as well as Eastern Europe, Spain, Sweden and Africa – not to mention the occasional pop classic.  
Akabella will perform two sets during the song session. Other singers and musicians are also very welcome. There is no charge, but there will be a raffle to help with expenses. Bring your own drinks – tea and coffee available in the kitchen.