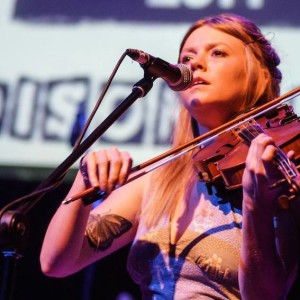 The showcase guest at the song session on Friday 26 September will be local singer-songwriter and fiddler Georgia Shackleton, who favours performing 'wordy songs about other people'. Georgia takes inspiration from places and faces, as well as the traditional, regional and early 20th century material she also performs.
After studying the highly acclaimed Folk and Traditional Music degree in Newcastle, Georgia has performed in various line-ups alongside an eclectic mix of fantastic musicians. She has now returned home to her native Norfolk and is currently working on new projects, including material with fellow Newcastle graduate, Nic Zuppardi on mandolin, and 'Addison's Uncle' guitarist, Aaren Bennett. 
There is no charge and all singers, musicians and listeners are welcome to join the song session. Bring your own drink – teas and coffee available in the kitchen, as usual.