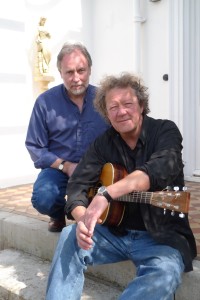 On Friday 8 July we welcome Mick Ryan and Paul Downes. Mick Ryan is well known on the folk scene as a fine singer of traditional and original songs. He was described by Folk Roots as 'definitely the most underrated singer in the country'. Having written both comic and serious material for the very popular band Crows in the 1980s, he has since written for radio and developed a series of highly successful folk musicals: 'A Tollpuddle Man' (with Graham Moore); 'A Day's Work'; 'The Voyage'; 'Tanks for the Memory' and, recently, 'The Navvy's Wife'; 'The Pauper's Path' and the centennial revival of 'A Day's Work'.
Mick is joined by the consummately skilled and expressive Paul Downes, who has a sensitive, yet fun approach to live performances which puts him among the most respected artists on the British acoustic music scene today. He has been introduced (to his embarrassment) as one of the greatest acoustic guitarist in the world, but considers himself a singer of songs rather than a guitar technician. Paul has a rich musical background that has progressed through working with Phil Beer, The Arizona Smoke Revue, Pete Seeger, The Joyce Gang and Maggie Boyle.
Tickets available by reservation via our contact form, £10 (£7 members). Bring your own drinks. Teas and coffee available in the kitchen.