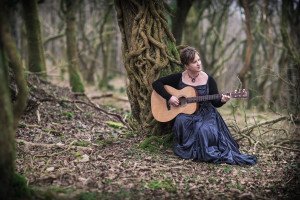 Nominated at the 2015 BBC Radio 2 Folk Awards and celebrated by The Telegraph as 'one of Britain's top folk musicians', Ange Hardy has grabbed the attention of the traditional folk music world by writing new material and embracing modern technologies whilst maintaining a traditional feel.
Alongside a staggering list of other accolades, Ange was awarded FATEA Magazine's 'Female Vocalist of the Year' in 2013, 'Album of the Year' in 2014 and 'The Tradition Award' in 2015.
As a solo artist, Ange performs with a 27-string Salvi Harp, three different guitars, a variety of low whistles, a bodhrán drum, a tambourine and an Indian shruti box. Her innovative and subtle use of live looping to build layers of vocal harmonies makes Ange Hardy one of the most diverse solo-artists you're likely to encounter.
Tickets are £11 (£8 members) and can be reserved by emailing via our contact page. Bring your own drinks. Teas and coffee available in the kitchen.