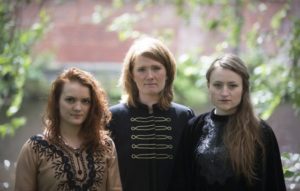 Lady Maisery, who were nominated for the 'Horizon' BBC Folk Award 2012 and for 'Best Debut' at the Spiral Awards 2012, comprise Hannah James (Kerfuffle, duo with Sam Sweeney), Hazel Askew (The Askew Sisters, The Artisans) and Rowan Rheingans (Fidola). The trio explore vocal harmony through fresh interpretations of songs and ballads, and each member is also an accomplished instrumentalist, together creating a rich tapestry of fiddle, banjo, harp, concertina, accordion and foot percussion.
Lady Maisery are also one of the foremost English proponents of traditional mouth music, or 'diddling', a form of singing without words. Over the last five years, the trio have released two critically acclaimed albums (five stars in the Financial Times, Album of the Week in The Independent), made many appearances on national radio and toured widely, performing sell-out shows across the UK and Europe. Lady Maisery's third album is to be released in autumn 2016.
Tickets £12 (£9 club members). A very few tickets are still available, so please use the email form to contact us if you would like to come along. Bring your own drinks – teas and coffee available in the kitchen.