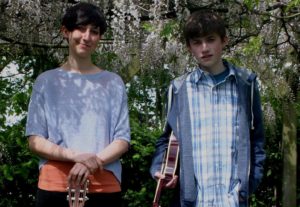 At the song session on Friday 21 October we look forward to a special showcase by Shorelark, a new young folk duo who were finalists at New Roots this year. Shorelark comprise singer-songwriter and guitarist Georgia Morgan Turner and recorder-player and English folk multi-instrumentalist Finn Collinson. Their meticulous arrangements make great use of unusual instrumentation, inspired by the duo's wide influences, which range from Brazilian music to Baroque recorder works.
With a combined age of just 32, Georgia and Finn are experienced beyond their years and between them have enjoyed solo performances at the Barbican Hall (Georgia) and Cadogan Hall, London (Finn). They have also appeared at FolkEast Festival, Cecil Sharp House and Aldeburgh Festival.
Georgia and Finn will perform two sets within the song session, which is free. All singers, musicians and listeners are welcome to come along. Bring your own drinks – teas and coffee available in the kitchen.