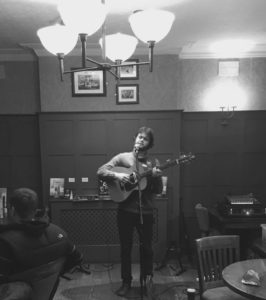 On Friday 28 July we welcome showcase guest and New Roots 2017 finalist Clarke Camilleri, a young guitarist and songwriter, and a keen student of traditional folk music. Clarke has a recent EP of his own material and his current interest is in making his own arrangements of traditional British songs. 
Clarke, who was one of our favourite New Roots performers this year, will be performing two sets within the song session.
This is a free event. As usual, bring songs, tunes and perhaps a bottle or two. Teas and coffee will be available in the kitchen.
Norwich Folk Club meets from 8 pm every Friday throughout the summer for the regular song session. Everyone is welcome to come along, whether to sing, play or listen, and we particularly enjoy meeting visitors to the area. Free entry to all song sessions.
Please note that the song session on Friday 1 September will be in the cosy upstairs room, for one week only.