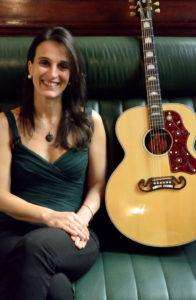 Our guest on Friday 22 September, Flossie Malavialle, is a French-born singer and guitarist who has been based in the North East of England since 2002. Flossie sings and plays a wide variety of songs in French, English and Spanish interspersed with a touch of humorous Geordie-French banter which gives her performances a certain 'je ne sais quoi'.
Flossie has played throughout the UK and far beyond and has so far recorded 12 albums. Her repertoire extends from well established folk songs to jazz standards, from blues numbers to Edith Piaf and Jacques Brel's classics.
Tickets £11 (£8 club members), can be reserved by emailing via our contact page. Bring your own drinks. Teas and coffee available in the kitchen.
The theme at the song session on Friday 15 September will be Harvest. All welcome to come along, whether to listen, sing or play. Free entry.