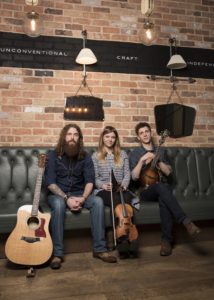 The guests on Friday 19 January will be the Shackleton Trio, a lively local band featuring fiddle-player and songwriter Georgia Shackleton, supported by guitarist Aaren Bennett and mandolin player Nic Zuppardi. Georgia writes and performs 'wordy songs about other people', instrumentally influenced by British, American and Scandinavian folk traditions, with a regional twist.
The Trio have toured the UK, Belgium and the Netherlands, and have performed at Cambridge Folk Festival and Folk East, Towersey and Broadstairs Folk Week, as well as folk clubs across the UK.
Tickets £11 (£8 club members) can be reserved via our contact page. Bring your own drinks. Teas and coffee available in the kitchen.
The club's Christmas Party will be on Friday 22 December. All welcome. Bring your own drinks and perhaps some food to share.  Seasonal songs, tunes and a grand raffle.
Norwich Folk Club will also meet on Friday 29 December this year.