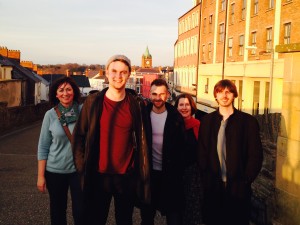 A rare opportunity to catch up with
The Changing Room
on tour. The phenomenally busy Sam Kelly and Tanya Brittain will be joined on stage by Jamie Francis (Stark), Evan Carson (The Willows) and harpist Morrigan Palmer-Brown.
In the short time that they've been recording together The Changing Room have built up a significant catalogue of music, and clocked-up some impressive airtime on BBC Radio 2 and BBC Radio 3. Their debut album was included in The Telegraph list of 'Best Folk Albums of 2015'.
With rootsy, Celtic-infused, original folk, heavily influenced by the industrial heritage of Cornwall, this Looe-based band are ambassadors for collaboration. Their songs feature rousing choruses and catchy hooks. Accordion, guitar, bodhran, harp and banjo plus award-winning vocals deliver a winning combination, and unique sound.
Tickets £10 (£7 members) are now SOLD OUT, but you can be put on the list for returns by emailing us via the contact page. Bring your own drinks. Teas and coffee available in the kitchen. This event will start at 8.30 pm.
The Norwich Folk Club Annual General Meeting will take place from 8 pm on Friday 12 February, to be followed at about 9 pm by a song session open to all.
On Friday 19 February  the song session will run from 8 pm till 11 pm (not 8.30–11.30).