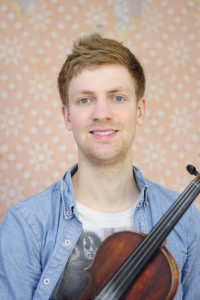 The guest on Friday 13 June will be the winner of BBC Young Folk Music Award 2010, fiddler, guitarist and singer James Findlay. Brought up in the folk tradition, James is particularly passionate about songs from his home counties of Dorset, Somerset and Devon. With a great voice and a love for song that's evident though his knowledge and understanding of the material, James is one of the most accomplished of the latest generation of folk performers.
James enjoyed a busy year in 2013 with commendations for his folk festival and folk club gigs as well as his part playing Little Musgrave in Jon Boden's 'The Ballad of Little Musgrave and Lady Barnard'. He has also been involved in other high-profile projects, including the recording of 'The Liberty to Choose', songs from The New Penguin Book of English Folk Songs, with Lucy Ward, Bella Hardy and Brian Peters, produced by Fellside.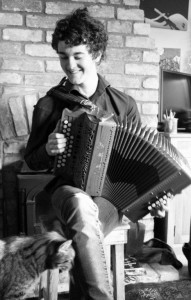 In support is melodeon and English concertina player Saul Bailey, one of the very latest of the New Roots finalists to catch our attention. Saul enjoys experimenting with old and new English folk tunes – particularly 'dance stuff, fast stuff, furious stuff and frankly ridiculous stuff'. Saul has appeared at various folk clubs and village events, as well as at Cambridge Folk Festival.
Bring your own drinks – fine ales available at nearby establishments, and teas and coffee in the kitchen. Tickets (£10/£7 members) can be reserved by email via the form on the contact page.
For beginners and upwards, the ukulele get-together from 7.30 till 8.30 on Friday 6 June will be followed by the usual song session.