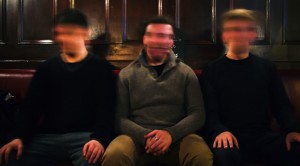 We welcome folk trio Teyr as showcase guests at the song session on Friday 24 October. Forged amongst the hustle and bustle of North London's folk scene, Teyr ('3' in the Cornish language) are a trio of players who showcase the many sounds of the British Isles.
With roots running from Ireland to Wales to Cornwall, James Gavin (guitar and fiddle), Dominic Henderson (uilleann pipes) and Tommie Black-Roff (accordion) capture the hybridity of contemporary life within traditional music, injecting it with a shot of youth. Having met on the Trad music scene through late night sessions, each performer holds an intuitive sense of folk music, evident in their deft new arrangements of fiery tunes and songs as well as original material.
There is no charge, but we will have a raffle. Listeners, other singers and tune-players all welcome. Bring your own drinks – teas and coffee available in the kitchen.