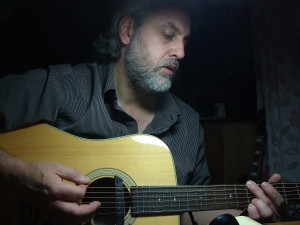 Showcase guest at the song session on Friday 14 June will be popular local singer, songwriter and guitarist Tim Chipping. Tim is an acoustic musician hailing from the rural depths of Norfolk's Wensum Valley. He writes and performs his own songs, often very story based and which, whilst acknowledging traditional song forms, are influenced by a variety of contemporary music styles, encompassing themes from the modern world. He also reinterprets traditional songs and puts his own particular stamp on material by current artistes such as Bruce Springsteen, The Levellers and Steve Earle.
In the early 90s Tim co-founded folk rock band Folklaw and, latterly, was one half of acoustic duo Movers and Shakers together with fiddle player Mike Naldrett. Currently, as well as performing solo, Tim sings and plays guitar with Norfolk folk band LongShoreDrift (LSD to their friends!) as well as The Stringdogs, an Anglocana meets Americana acoustic roots collision. His new solo CD, 'What You Hear Is What You Get' is out now.
All welcome to this free session. Bring your own drinks, songs and tunes.