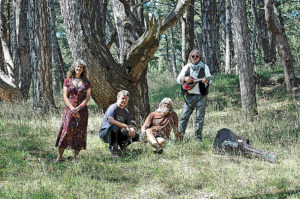 On Friday 24 March we welcome Two Coats Colder as showcase guests at our song session. The band name derives from an expression used by a North Norfolk local describing the winter weather in those parts.
This acoustic folk band comprises Ray Taylor and Anna Bass, originally of Samphire, joined since 2012 by Chris Bullen of the Marina Florance Band and David Baird, a longtime friend and accomplice of John Martyn. Two Coats Colder have appeared at festivals, folk clubs and other venues. Their first full-length album Unseen Highway was released in 2015 and a track was featured on the Mike Harding Show. The band is currently working on a second album, Moment in Time.
Two Coats Colder will perform two sets during the song session. Please bring songs and tunes of your own to add to the mix, as well as your own drinks. Teas and coffees are available in the kitchen. This is a free event.
.