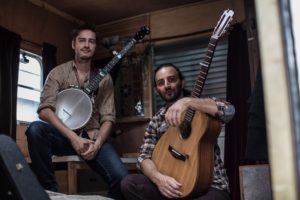 Jimmy Aldridge and Sid Goldsmith are a highly acclaimed folk duo who play traditional and original music of the British Isles.
Over the last three years they have built a reputation on the UK folk scene for arresting and moving performances. The songs themselves are always given centre stage but they are brought to life with sensitive musical arrangements and stunning vocals. There is an integrity that shines through their performances and a common thread of political struggle, resistance and justice.
Jimmy and Sid have been heavily influenced by the songs and singers of East Anglia, where they both grew up, but their music also reflects the diversity of voices within the folk world. Shallow Brown/Jackie Tar
Tickets £11 (£8 members) will be available on the door. All our events start at 8 pm. Bring your own drinks – teas and coffee available in the kitchen.